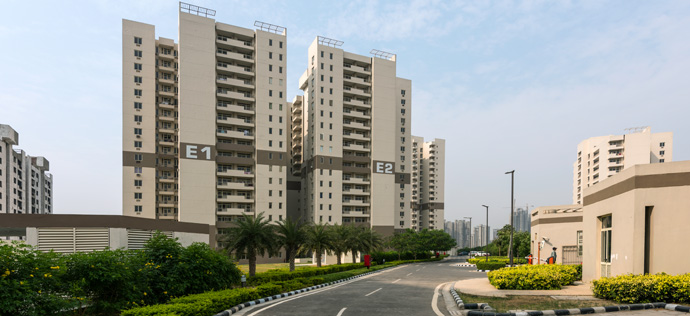 Thinking big ideas for big living experience
NESTLED IN A QUIET CORNER of Vatika India Next is a grand gated community sprawled across almost 20 acres of lush, landscaped greenery. Gurgaon 21 is a bold interpretation of urban living, combining the dynamism of a cosmopolitan lifestyle with the serenity of a well-planned, premium neighbourhood.
Gurgaon 21 offers about 964 exclusive apartments in 12 residential towers. Gurgaon 21 is ready-to-move-in and many families are living here. The towers are laid out in a way that provides an expanse of uninterrupted greens, and are linked by an outer loop road which facilitates easy drop-offs to the apartments. The apartments range from 1245 sq. ft. to 2390 sq. ft. in area, and are available in four different-sized configurations.
Beautiful landscaping is a noteworthy feature of the project, and walking throughout the development will be a pleasant experience. The community has its own club with a swimming pool, gymnasium, children's play area, etc., as well as a community retail centre. There is a generous amount of parking space at the surface level and in the efficient double basement.
Gurgaon 21 homes offer a big living experience with spacious interiors