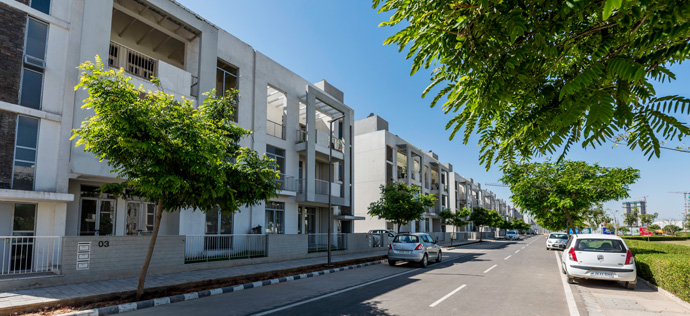 Independent floors with more space, more freedom
Premium Floors are a low-rise residential option ideal for discerning residents who don't want the 'shared space' approach of high-rise developments. Premium Floors are spacious, well laid out homes, with just one residence on each floor.
This upmarket community of independent floors in Sector 82, Gurgaon has a feeling of spaciousness with tree-lined streets and landscaped front yards. The residential units are set back from the street leaving a broad walkway that creates a sense of privacy and security.
Ground floor homes have a sit-out in front and a garden at the back, while the first and second floors get large balconies and their own private terraces. Parking space has been provided between adjacent units, with direct access from the homes. The interiors are well appointed and all the units have fully finished modular kitchens.
For families seeking independence and exclusivity without going to the expense of a villa, Premium Floors offer elegance and graceful living in a peaceful, uncluttered community.
Raising the bar in comfort exclusively for you