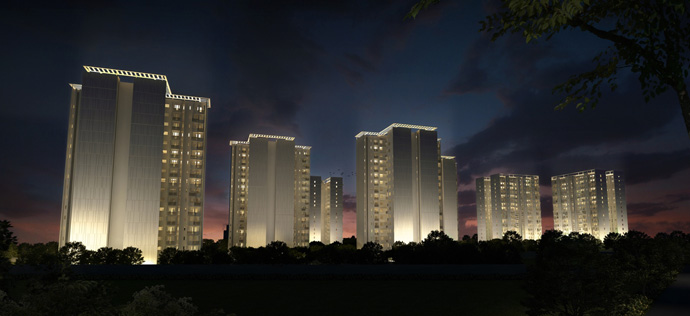 An architectural inspiration where life is at its entirety
THE SEVEN LAMPS is a remarkable high-rise residential development in Sector 82 within Vatika India Next, Gurgaon. The project draws inspiration from 'The Seven Lamps of Architecture', an essay by John Ruskin on the basic tenets of good architecture.
Seven Lamps is ready for possessions, and you can move into your new home right away.
The gated community of The Seven Lamps will have seven towers; and since the project is surrounded by low-rise developments, these towers will rise majestically from their midst like seven powerful beacons. The towers will become landmarks in the area and be visible from NH8 as well as the sector road.
The entrance to the community is from a 24 metre wide road, and opens on to a large open plaza. Convenience shopping is located here, with free public access. Beyond this is the security gatehouse, which leads to a posh landscaped Arrival Court. Roads head off from the Arrival Court to the residential towers and the amenities. The Seven Lamps will be an environment where beauty meets functionality, and architecture and nature exist in perfect harmony.
The Seven Lamps of Architecture:
sacrifice. truth. power.
beauty. life. memory. obedience