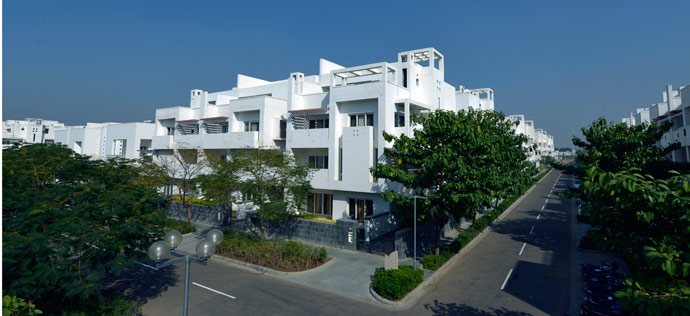 Premium ready to move-in row housing
Urban Woods is a secure and spacious gated residential community spread over 17 acres near the Central Park of Vatika Infotech City.
A unique feature of this complex is that it is laid out along seven streets – each of which is named after a tree, and is lined with trees of that species only.
Urban Woods comprises independent floors on 300 sq. m. plots. Ground floor apartments have private gardens, while the first and second floor apartments have private terraces. Second floor apartments are actually a 4-bedroom duplexes extending on to the third floor.
The beautiful Urban Woods Club is fully ready and functional. The Club offers facilities like Gym, Pool Table, Party Hall, Departmental Store, Cafeteria, Card Room and Coffee Lounge. The club facilities attract hundreds of residents and social functions are regularly organized on its lawns.
Urban Woods is ready to move into, and 200 families are already living in this oasis of calm.
The main boulevard is 130 ft. wide and all roads within Urban Woods are at least 50 ft. wide, with clearly demarcated walkways