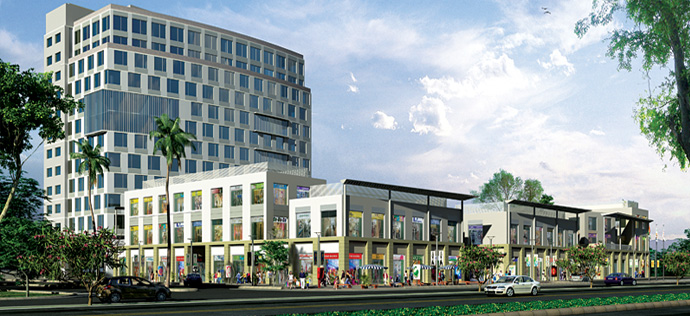 Profitable Retail Spaces where opportunities walk in...
Town Square is a buzzing shopping and entertainment destination for the residents of Vatika India Next, as well as inhabitants staying in nearby areas. HDFC Bank, Mother Dairy, Needs Supermarket and Safal are operational and Coriander Leaf have signed up for the convenience of residents. Town Square is situated just 500 metres from NH8 with an excellent location in Gurgaon's new real estate hot spot, Vatika India Next.
This will be the buzzing commercial hub for close to 5 lakh residents staying in the vicinity, and will cater to the many visitors. Town Square is undergoing construction of underground parking for over 400 cars as well as drop-off areas.
Town Square has 9,500 sq. m. of retail space spread over three blocks of Ground + 2 floors and 14,500 sq. m. of mixed-use commercial space in a stunning designed 14 storey block. The western side of the complex features landmark – a distinctly designed tower that will be visible from afar.
The Town Square commercial block has been designed to meet every requirement of a growing business. These are inter-connected by sheltered arcades with Independent VRV/ Split Units in each specialty retail unit. This helps in reducing the maintenance and running charges.
The project is ideal for banking services, clinics, boutiques, gymnasiums, beauty salons, real estate services, travel companies and many other services that the thousands of residents of a busting township will need regularly.
Town Square will serve as the favorite shopping and entertainment centre for not only the residents of Vatika India Next but also for inhabitants staying in nearby areas