July 2006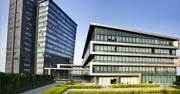 Vatika Towers, Gurgaon
Vatika Towers offers over 3,83,263.48 sq. ft. of office space spread over two blocks (Gr + 4) and (Gr + 15), joined by a large central atrium. Designed by the world-renowned architectural firm, Studio u+a of New York, in association with Spazzio Design Architecture Ltd., one of the leading design firms in India, Vatika Towers  is the landmark commercial development of the Group.
January 2006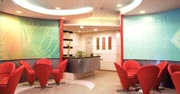 Vatika Business Centre, Vatika Atrium - Gurgaon
Vatika Business Centre at Vatika Atrium is located on the 200 ft wide Sector Road which passes through Phase V of DLF City, amidst green surrounds of the Arnold Palmer Signature Golf Course and the picturesque background of the Aravali Hills.