September 2012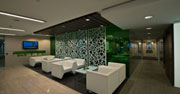 Vatika Business Park, Gurgaon – Business Centre
Vatika Business Centre is located on Sohna Road, Gurgaon with close proiximity to NH8. The business centre covers 29,000 sq ft area offering 274 seats in various combinations ranging from single seater to 20 seaters, 7 cabins and 9 meeting rooms that it provides for fully-furnished shared offices, meeting rooms with HD Video Conferencing, Secretarial Staff and building maintenance.
September 2012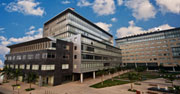 Vatika Business Park is strategically located on Sohna Road, Gurgaon.
Vatika Business Park consists of over 8,70,000 sq. ft. of office space. The complex boasts of a one-acre central landscaped courtyard/piazza – its three building blocks are configured around this. In addition to this, a specially designed "Bean Garden" provides welcome aesthetic relief.