December 2013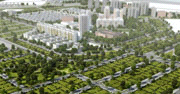 Vatika India Next - Plots
Handing over of plots has started at Vatika India Next, Gurgaon. The plots are located on developed streets, and off-street parking is available in most cases. All necessary infrastructure, like power supply, water supply, sanitation and communication facilities, is provided.
October 2013
Vatika India Next - Independent Floors
Possession has commenced for Independent Floors at Vatika India Next, Gurgaon. These floors are built in a G+2 format with just one home on each floor to give you more space and more freedom. Overall township infrastructure and facilities management services is ready to ensure living at INXT is a pleasant experience.